Saint Vitus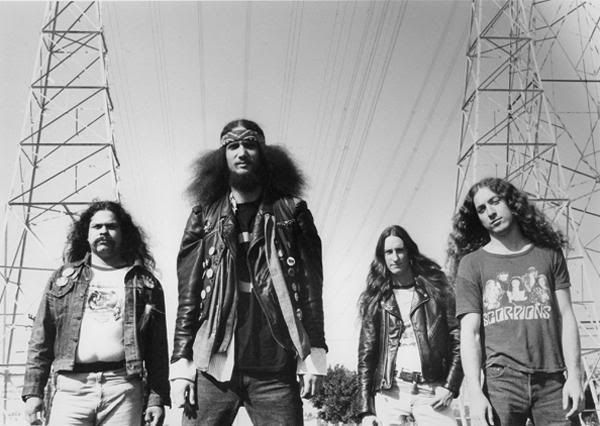 The first line-up: from left, Amando Acosta (drums), Dave Chandler (guitar, Mark Adams (bass) and Scott Reagers (vocals)
Saint
Vitus were a pioneering doom metal band that grew out of the punk movement. The most obvious influence to the band's style, preoccupations and outlook is Black Sabbath (actually, this is a band that probably thinks "preoccupations" are drugs you take before work). Death, loneliness, pain, corruption, drugs, unrequited and unreciprocated love, nuclear war, non-nuclear war, dragons, more drugs, snow, women and more negative territories are mined by this band. The band claimed to be equally influenced by Black Flag and the punk movement in general and indeed the band was signed to Black Flag's legendary label,
SST Records
. I believe their thinking was "what's more rebellious and punk than to play what you want, long after it's gone out of fashion?". Unlike most punk bands, of the 77 and hardcore varieties, Vitus was part of a growing wave of punk bands that acknowledged and paid equal heed to the psychedelic bands of yesterday, joining such great bands as Sonic Youth, the Butthole Surfers and Camper Van Beethoven.
The second line up: Scott "Wino" Weinrich (far left) took over on vocals and occasionally played lead guitar.

None the less, the chief inspiration for this band is Black Sabbath. On one level, one could argue Vitus is only a step above the tribute act, as they merely perform original songs in a style very derivative of one band. But there are enough differences that a clear personality is found in Vitus' catalogue - Vitus' songs are longer, slower and more tripped out than the majority of Black Sabbath's catalogue. They're like the slowest parts of "Master of Reality" turned into full fledged songs. Dave Chandler isn't quite as good a lead guitarist or riff-writer as Tony Iommi, but his solos (which utilise heavy wah, analog delay and tremelo arm usage) are truly special in their own right. From the lo-fi masterpiece solo in "Mystic Lady" to the painful squealing of "Born too Late", the great Chandler has shown his way around a guitar solo.
Another key difference between Vitus and Sabbath is that Vitus had it's preening, over the top singer first and it's downbeat moaner second. Scott Reagers (who performed on Vitus' first two albums "The Walking Dead" EP, then later returned for the final Vitus album "Die Healing") is certainly not as good at "hitting the notes" as Ronnie James Dio, but he does have a definete personality and interjected essential life into songs like "Burial at Sea" and "Dark World". Wino, on the other hand, alternated vocal/lyrical approach between defiant but grounded rebel rousers and downbeat and moodier songs. Both approaches have their fans, many who hate the other singer's material.
I like both versions of the band. The early Reagers releases have a unique lo-fi charm - they are even weaker recordings than even "My War" by Black Flag, but like that album, possess uniquely haunting acoustics as a result. The small (almost mono) range of these recordings allow Dave Chandler to fill up the space with his unique and interesting guitar lines. The drums also sound like cardboard boxes sometimes. His later reunion with the band for the "Die Healing" LP was also a very strong Vitus album, with the best production yet and a great note for the band to end on.
The line up with Wino on the other hand created some of the most downbeat, psychedelic and interesting heavy metal produced in the eighties. The production was a lot stronger and the increased expression allowed Chandler to record his best work on the guitar.
There was also a third line-up, with Christian Lindersson on vocals, that produced the disappointing "C.O.D." CD which was (over)produced by Don Dokken. But even that wasn't so bad as to be worthless, like so much of the Black Sabbath output in the eighties.
The differences between their best albums are largely inconsequential small details. In essence, if you like one song by this band, their approaches vary only so much. Both line ups were incredibly influencial on the metal scene in the future, with bands like Crowbar, Down, Corrosion of Conformity clearly drawing on Saint Vitus for influence.
1984 -
Saint Vitus
LP
1985 -
Hallow's Victim
LP
1985 -
The Walking Dead
EP
1987 -
Born Too Late
LP
1987 -
Thirsty & Miserable
EP
1988 -
Mournful Cries
LP
1990 -
V
LP
1992 - C.O.D. LP
1995 - Die Healing LP