The earliest line up featured Greg Ginn on guitar, Chuck Dukowski (born
Gary McDaniel)
on bass, Brian Migdol drumming and Keith Morris on vocals. The music on the "Panic Demos" and debut "Nervous Breakdown" EP record is essentially a more "fun" orientated take on the Sex Pistols sound. The lyrics are darker and more downbeat, but the music very upbeat. "Black Flag" were also an early pioneer of the DIY approach/aesthetic, releasing their own records on Ginn's SST records.
Pretty soon Keith Morris left (and formed the great Circle Jerks) along with Brian, leaving Robo to take over drumming duties and Ron Reyes to take up vocals. Ron Reyes was quite annoying, but the energy on the "Jealous Again" record is undeniably threatening - songs like "Revenge" and the title track are considerably more innovative than the earlier material. Then, Ron Reyes (hereafter named "Chavo Pederast" by the band) left the band so Dez Cadena took over on vocals. Dez was angrier than either previous vocalists and the music on the "Six Pack EP" reflected this, particularly "American Waste" and the title track. Dez's songs on the 1983 "Everything Went Black" album, which consisted of the first three vocalists' attempts to record the "Damaged" LP, showed that he was handling vocals on the same harder material that subsequent singer Henry Rollins' more famously performed. Anyway, Dez Cadena decided he wanted to play guitar instead of sing, so the band began looking for another singer. Through a series of events recounted elsewhere, the band settled on a young man from Washington D.C. who worked in a Haagen-Dazs store.
Fourth and longest running singer Henry Garfield aka. Henry Rollins..
The band immediately set about a legendary tour of the United States with newly-rechristened Henry Rollins, who's intense, shouted vocals fit the band like no previous vocalist, though definetely having an audible similarity to Dez Cadena's approach.

The "Damaged" line-up, with Greg Ginn (far left) on first guitar, Henry Rollins on vocals, Robo (obscured) on drums, Chuck Dukowski on bass guitar and Dez Cadena on second guitar.
This line-up recorded the groundbreaking "Damaged" album which mostly featured a series of songs Ginn wrote when he was the band's only had one guitarist. This meant that the ultimate recordings have an indistinct punch, with either both the guitar lines seemingly mixed over each other, or Ginn's guitar far more prominant. There's not a lot of stereo seperation, giving the band a straightforward, angry punch. However, when the album was finished, Black Flag's major record label deal fell through (someone called it an "anti-parent" record) and it took two or three years to see release by SST records.
The post-Damaged line-up, with (from left) Dez Cadena, Henry Rollins, Greg Ginn, Chuck Dukowski joined by Bill Stevenson on drums (far right).


While the "Damaged" LP was held up, the band replaced Robo on drums with Chuck Buscuits, then subsequently Bill Stevenson.
The Buscuits line-up recorded a legenedary demo in this time, widely available on bootleg, called "The Complete 1982 Sessions". It featured songs written for the two guitar line-up with similaritys to the "Damaged" style speed and song structure but far more progressive and varied. Songs from this era would be released on subsequent albums, but with a very different line-up
.
1984 saw the release of three full-length Black Flag albums: the groundbreaking "My War", the confounding "Family Man" record and the troubling "Slip It In". The "My War" line-up featured only Ginn, Rollins and Stevenson and Ginn doubling the rhythm guitar with bass. From "Slip It In" onwards, the bassist on Black Flag studio recordings is Kira Roessler. The releases around this time were so varied and different that at one time Henry Rollins suggested to Greg Ginn they put out two records that are broadly similar so fans would not get so confused.
The final recording line-up, from "Family Man" onwards. From left; Rollins, Ginn, Roessler and Stevenson.
This unpredictable approach didn't change in 1985, where Black Flag released
three more
records
- the more mainstreamed "Loose Nut", the suprisingly good "Process of Weeding Out" EP and the final "In My Head" album. This line up also recorded the "Live 1984" album, though a later live disc, "Who's got the 13 1/2?", featured Anthony Martinez on drums.
The band was pioneering in that it recorded it's own music, pressed, distributed and toured in support of it. They toured in places where there was no established punk scene and expected fans to travel to meet them. They promoted themselves with distinct flyers using artwork by Raymond Pettibon, Ginn's brother. Pettibon's artwork can also be seen in several other places, including the cover of Goo by Sonic Youth. By exchanging tour information with other national hardcore bands such as the Dead Kennedys, they were helping to make scenes in diverse areas.
blah de blah
blah de blah
blah de blah
blah de blah
blah de blah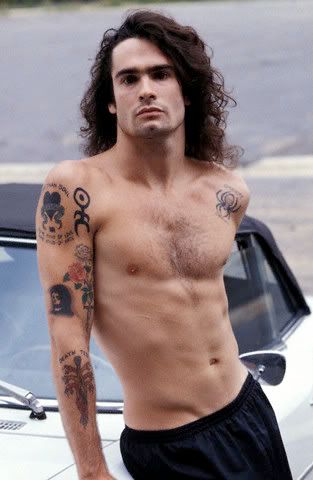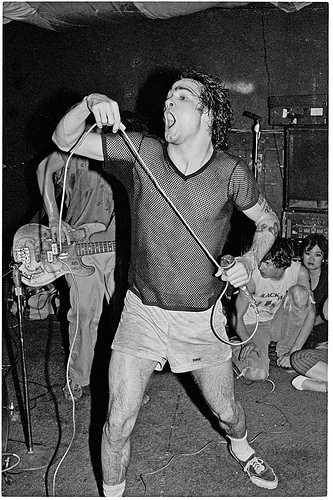 1977 - Panic Demos
1978 - Nervous Breakdown EP
1980 - Jealous Again EP
1981 - Six Pack EP
1981 - Damaged LP
1982 - TV Party EP
1982 - The Complete 1982 Demos LP
1983 - The First Four Years LP
1983 - Everything Went Black LP
1984 -
My War
LP
1984 - Family Man LP
1984 - Slip It In LP
1985 -Loose Nut LP
1985 - The Process of Weeding Out EP
1985 - In My Head LP
1986 - Minuteflag EP
1989 - I Can See You EP